I dont know if anybody else has ever see or heard of this show on cartoon network ,Skunk Fu, but its about a group of animals who are into martial arts [kung fu panda]. I noticed the other day that they say "Shiza" or however the german word for shit is spelled. Are you really allowed to do that ? Curse in a diffrent launguage on television? If so I am about to start my own show. No fuck that, a movie. Staring myself, it is going to be a parody of snakes on a plane. I like cheese, but I hate relish. Its going to start off all normal like then out of nowhere Patrick Duffy will kick open one of the doors, sucking everybody but 10 people out. The people left are going to be Samuel L. Jackson, The Pope, Violet, and Senior Bear, Patrick Duffy's twin brother Mattrick Puffy, Tony the Tiger, That chick Janet who works at the hardward store, My Bassist Tilley , Titty, and Tom from myspace. Then out of nowhere the gas masks drop....
the lights dim....
Violet farts....
and a metric shit ton of punk rockers with chainsaws for willys come crashing through the ceiling ripping titty apart limb from limb because he is black.
Then tilley starts kissing dudes.
Violet and Polarbear jump out of the plane useing tittys dead body as a mattress to land on. It does not work. They live, but end up selling their house.
Then Samuel L Jackson looks right at the camera and says "Ive had enough of these mother fucking punks on this mother fucking plane" and shoots all their faces off. Then he shoots everyone else in the face because he is like that . Right after he blasts tony the tiger, he walks up to janet and she looks at tom. She says "Tom....I love you" and he looks back at her and says "Sorry myspace has encountered a technicle error" and he gets shot in the face. Then right as he pulls the trigger ,close up on janets face, AHHHHH! BOOOM!!! Samuel Jackson falls. I am standing behind him with the paper towle roll that I killed him with, and me and janet fuck doggy style intill the plane lands. Then we switch to missionary, I look at the camera and say "Mission complete", and the plane explodes. BOOM!
This summer....
You will laugh....
You will DIE!!!one!!
Samuel L Jackson is....
Punks on a plane!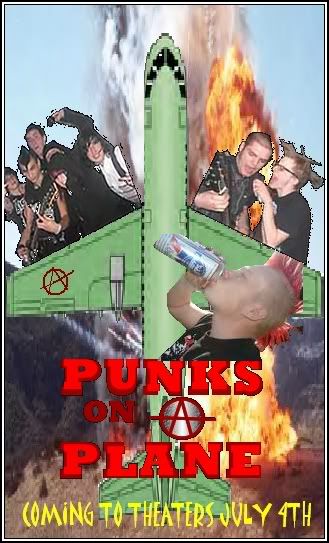 Rated R for retarded.