The Background
In 2010 one of my local roads was dug up to create a bicycle lane. This was done without the consultation of local residents and businesses. The bicycle lanes start from one quiet industrial area street and end randomly halfway up the road that runs down the back of my work complex. This has stripped over 1,000 car parking spaces, has created massive difficulties for large trucks to turn into their warehouse complexes off this road as well as many other issues.
There have been literally hundreds of
newspaper articles
, talk-back radio segments and petitions to not only knock down these bike lanes, but to sack the local Member of Parliament who, in this area, is also our State Premier (the American version of this would be a State Governor) who strangely enough publicly mocked the bike lanes on Twitter despite the government she is in charge of funding it.
Who Hates It?
Motorists
Local businesses
Pedestrians
Cyclists (!!!!!)
Me
Why Do I Hate It?
Cyclists refuse to use it.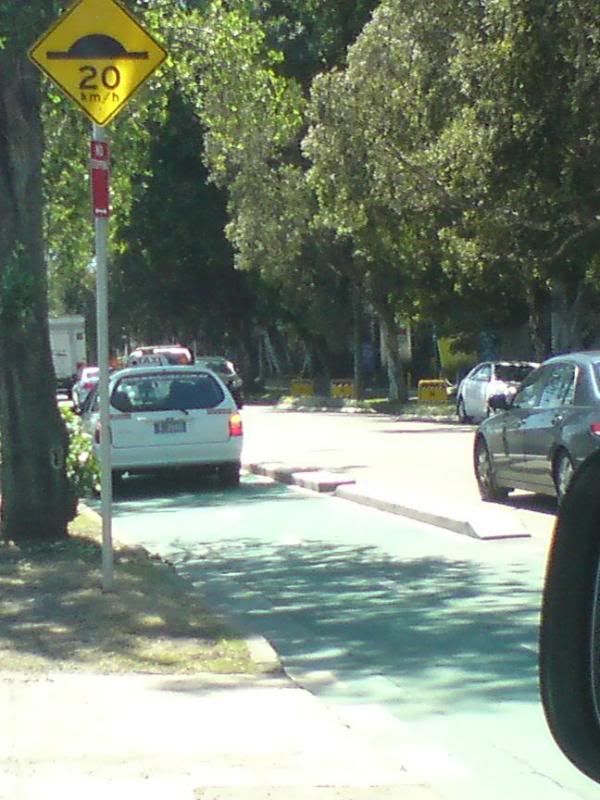 Taxi drivers use it as parking spaces and go unpunished.
This road is on my road-test route. Speed bumps, decreased speed limits and bicycle lanes are NOT practical for commercial/industrial areas. Plain and simple.
What Should They Do To Fix It?
The main aim of the lanes was to decrease accidents involving cyclists on busy Sydney streets.
I propose they make cyclists have to register their bicycles if they wish to use them on public roads in this area. By having to display number plates and registration stickers, police will be able to enforce laws that these cyclists constantly piss on and don't get punished for.
After a few months of this revenue raising, cyclists will eventually start to improve their behaviour on the roads and decrease accidents.
As for changing the motorists behaviour, there really is no need. If cyclists are held accountable they will start to obey the road rules and motorists will be able to safely share the road with them.
What stupid things have your local government and/or council done that piss you off?